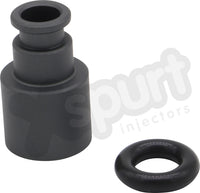 CNC machined and annodised aluminium fuel injector height extension.
Designed to turn:
short 

injectors (40 mm) into

medium 

injectors (55 mm) with a 14 mm top o-ring
This extension is placed on the bottom of the injector and is designed specifically to not affect the spray pattern.
Ideal to use when you need to lift the connector of a short injector off the manifold. Can also be used with a small height extension on top of an injector.