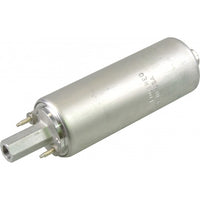 Walbro are tried and tested fuel pump brand that are very popular all around the world.
Good for around 600hp the Walbro GSL392 has pretty much the same flow rate a a Bosch 044 (220lph @ 5 bar). If you have less pressure they flow even higher.
They come with the genuine Walbro fitting kit which includes brackets and 2 barbs for inlet and outlet.
Brand:

 

  Walbro
Common Name:

 

  Walbro GSL392
Outlet:

 

  5/16" Barb (8mm)
Inlet:

 

  5/16" Barb 

(8mm)